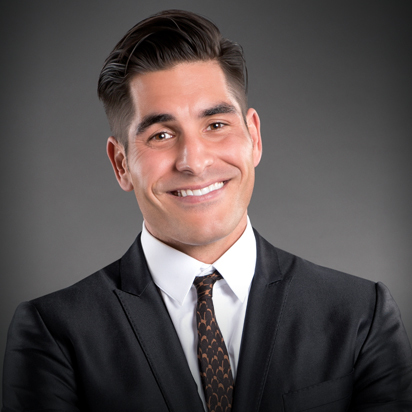 Radio and television personality Mike Catherwood is the new host of GSN's popular word association game show CHAIN REACTION. One of the most beloved names in Los Angeles' top rated radio market, he has created some of the most well-received characters for the groundbreaking KROQ morning program "The Kevin and Bean Show" in recent memory, a show which also launched the careers of Jimmy Kimmel, Adam Carolla and Carson Daly. This is where he developed his character "Psycho Mike."
In addition to his past work with The Kevin & Bean Show, Mike is co-host of the nationally syndicated radio show, "Loveline with Dr. Drew Pinsky." Most recently, he began hosting KABC's "Dr. Drew Live Midday with Mike Catherwood" which officially launched January 2015.
A Los Angeles native of Mexican/Irish decent, Catherwood studied Theatre at Rutgers University before opting out of the college scene to immerse himself in the world of punk and rock music. He developed a knowledge and appreciation that would help propel him to the heights of popularity as a radio personality.
Mike's guest hosting stint on "Live With Regis and Kelly," where he subbed in for a vacationing Regis Philbin, showcased his on-camera talents and was in part, responsible for his being cast on Season 12 of ABC's "Dancing with the Stars." He has hosted "American Chopper Live," "Auction Hunters Live," MTV's O Awards and NUVO TV's new show "The Collective." He is also a regular contributor on HLN's "Dr Drew on Call." Mike also appeared recently on several episodes of NBC's "Undateable," in which his wife, actress Bianca Kajlich, is a co-star.
Catherwood has also done successful voice over and commercial campaigns for clients such as Major League Baseball, TNT Network, The Discovery Channel, and AT&T. He lives in Los Angeles with his wife and newborn daughter.